Our History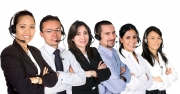 A healthy can-do attitude has helped ABM to build a successful business. ABM was initially a Xerox dealer for typewriters and fax products – a business that was growing rapidly in the 1980's and early 1990's.
ABM researched the marketplace, and as they were already very successful in selling Canon fax products, they decided to apply for the Canon copier dealership. They became a Canon Partner in 1990 and have successfully sold a full range of Canon printers and photocopiers since.
More recently ABM added Samsung to their portfolio and can now fulfill the needs of their customers with a complete range of small, medium and large multifunctional printers and photocopiers plus the option of Colour and/or Black and White.
For more information on our products and services give us a call on 0207 727 9966 or click here to complete our enquiry form