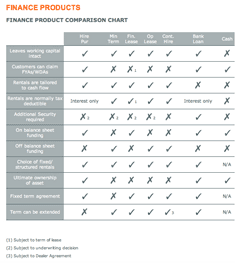 BNP Paribas
ABOUT US
OUR BUSINESS
BNP Paribas Lease Group is specialized in leasing solutions for professional equipment. Our offer ranges from lease financing to outsourcing, and includes flexible and long-term leasing.
This is the most comprehensive offer on the market by type of asset, either directly to companies and professionals, or through our partners, manufacturers, distributors, software publishers.
A subsidiary of BNP Paribas, BNP Paribas Lease Group is part of the Group's Equipment Solutions business.
BNP PARIBAS EQUIPMENT SOLUTIONS
Since 2006, this BNP Paribas division has grouped BNP Paribas Lease Group, Arius, Artegy and Arval.
It manages all of the Group's leasing activities with related services for companies.
It is organized into three international business lines, in line with the type of asset financed:
Technology Solutions, for IT, telecoms and copiers, groups the expertise of BNP Paribas Lease Group and Arius,
Equipment & Logistics Solutions, for farming equipment, materials handling, construction and public works, and commercial vehicles, groups the expertise of BNP Paribas Lease Group and Artegy,
Arval, for private vehicles and ultra-light vehicles.
Corporate real estate and other assets are now handled separately by BNP Paribas Lease Group's local units.

For more information on our products and services give us a call on 0207 727 9966 or click here to complete our enquiry form