ABM recommendation
A productive range for all your document communication needs. Canon's iR3225/N, iR3235/N and iR3245/N set new standards for productive, cost-effective black and white document communication. These multifunctional office devices are effortless to use and include powerful facilities for secure management and control. Three different devices provide a solution for a variety of budgetary constraints
iR3245N Black and White Printer

Canon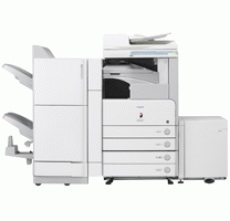 Status: New
Colour: Black and White
Office use: Yes
N/A
Speed: 31-50
Description
Canon's iR3225/N, iR3235/N and iR3245/N set new standards for productive, cost-effective black and white document communication. These multifunctional office devices are effortless to use and include powerful facilities for secure management and control.

Features
Effective management & cost controls
Enhanced security
Professional document finishing
Extensive software compatibility for added productivity
Energy saving and environmentally responsible
Options
Saddle finisher AE2

Puncher Unit
DADF (100 sheets) – optional for non N model
Paper cassettes (2 x 550 sheets)
Paper deck (2700 sheets)
Benefits
Productive communication
Combing a powerful set of features, cost and security controls, the iR3245N is the wireless, multifunctional device for forward thinking businesses.
Rather than cluttering up your office with numerous devices, the space saving iR3245N does it all in one compact, multifunctional solution that helps you print, copy, fax, scan and send documents efficiently. Whether you're operating the device from the comfort of your desk or via it's large, clear TFT colour touch-screen operation panel, the iR3245N puts effective communication, effortlessly at your fingertips. And if required, even a voice activation system can be incorporated.
Produce high quality documents with crisp, clear prints at a superb 1200 dpi and at 45 pages per minute using PS/PCL, or Canon's unique UFRII for enhanced network processing speeds. Professional finishing facilities and a flexible paper supply make it easy to produce stapled or hole punched reports, impactful booklets and customer proposals on a variety of different media types and sizes.
Documents can also be scanned in colour, instantly encrypted and then dispatched securely as PDFs using Canon's i-Send to various locations - such as network folders, email addresses and mailboxes.
Tight cost controls
In today's climate, cost controls couldn't be more important and the iR3245N ensures this is high on your agenda. With Canon's optional uniFLOW software you can gain a detailed insight into who is printing what, where, and how much it's costing you. It also allows you to automatically redirect prints to the most cost-efficient device on the network or to control the output levels of each department.
Safe and secure
Device access is controllable via passwords, your company's network log-in procedure, or even fingerprints. Documents can be held in secure mailboxes, until the relevant user is ready to print them at the device. Documents can also be encrypted before sending to others and secure watermarks can also be used. If needed, device hard disks can be erased or encrypted, and "job logs" concealed.
Easy for IT
The iR3245N comes "network-ready" so installing on your network is a simple task. And using Canon's iW Management Console (iWMC) allows centralised, remote management of the iR3245N and all your networked devices.