ABM recommendation
Entry level black and white A4 Machine. There are two different speed ranges available. Other options are: Canon iR1024A - Automatic feeder Canon iR1024i - Integrated ( i send) Canon iR1024iF - Fax option
iR1020 Black and White Printer

Canon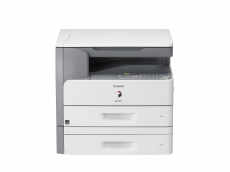 Status: New
Colour: Black and White
Office use: Yes
N/A
Speed: 0-20
Description
The iR1020 is here to help with your day-to-day office tasks. Sitting comfortably on your desk it runs at 20 ppm and incorporates double sided document creation for that professional-looking finish.
Features
Print / copy at 20 pages per minute
Double-sided documents
Superb 1200 dpi print resolution
Easy network set-up
Automatic energy saving when not in use
Environmentally considerate
Options
Enhance capacity further to a sizeable 1,100 A4 sheets if required
Benefits
Brilliant communication for home offices and small businesses
Present a professional image every time with the iR1020. You can copy and print black-and-white A4 business documents at your desk at 20 pages per minute and at an impressive 1200 dpi in enhanced mode. And with double-siding incorporated as standard, you will make a favourable impression and reduce wastage at the same time.
Effortless network integration
You're not the only one who can benefit from the productivity enhancing benefits of the iR1020. The iR1020 can be easily connected to your network so colleagues can take advantage too. Network printing* is enabled using Canon's advanced-performance proprietary printer language UFR II Lite, and a PCL printing option is also provided.
*Network interface adapter required
Space saving and scalable
Designed specifically to help enhance the productivity of small businesses and office workgroups, the iR1020 is a compact performer with big ideas. Configured with a generous 600 on-line sheets.
Care for the environment
Innovative on-demand fixing technology enables an energy saving sleep mode to be automatically initiated when the device is not in use. Once needed, the device is fully operational again in less than 5 seconds - a great way to reduce energy consumption without affecting productivity.
Environmentally considerate production methods ensure that the machine complies with the European RoHS and WEEE* directives, prohibiting lead and hazardous substances from the manufacturing process. In addition the machine conforms to the International Energy Star Program.
*Restriction of Hazardous Substances (RoHS) and the EU Directive on Waste from Electrical and Electronic Equipment (WEEE)