ABM recommendation
Fast printing with many bolt on options available
ML-4050N Mono Laser Printer

Samsung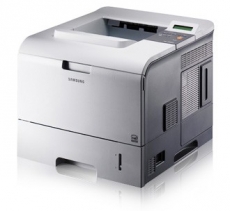 Status: New
Colour: Black and White
Office use: Yes
N/A
Speed: 31-50
Description
A powerful printing solution, combine speed, productivity, reliability, enhanced features, network readiness, everything comes together in one premium solution.
Features
Powerful printing performance
High velocity printing
Cost effectiveness
Increase cassette trays
Wired & wireless network
Sync Thur web service
Expanded printing with hard disk
Forms overlay
Solution for printing barcodes
Benefits
Powerful printing performance
Satisfying the needs for cost-conscious users with its fast printing, high capacity, and plethora of options, SAMSUNG ML-4050N represents reliable printing speed and enhanced optional functions for an efficient and productive office environment
Cost effectiveness
Save up to 12% with the high yield toner cartridge and whopping 20% with the standard yield toner compared with the competition. Combined with an extended toner yield, the reality for businesses is greater cost savings with longer use of the printer. With more use, the printer pays for itself
High velocity printing
SAMSUNG ML-4050N fulfills the basic needs of a user. It can print up to 40 pages per minute for letter size. The 1,200-x 1,200dpi resolution offers superior quality high-resolution printing. Fast, productive output depends on processing speed and adequate memory. With a 400 MHz processor and 64 MB memory expandable to 512 MB, this printer performs efficiently under a variety of circumstances. The ML-4050N features high performance printers with huge monthly duty cycles up to 200,000 sheets. You can meet the heavy printing requirements of medium office
Increased cassette trays
You won't have to worry about running out of paper in the middle of a huge print job with the ML-4050N. With a convenient 2,100 paper capacity composed of 500 sheets in the standard tray.
Options
Three optional 500-sheet trays and 100 page MP