ABM recommendation
The iT7095 fits seamlessly into any IT environment.
IR7095 Black and White Printer

Canon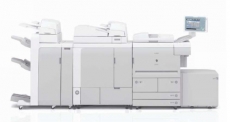 Status: New
Colour: Black and White
Office use: Yes
N/A
Speed: 50+
Description
Affordable and powerful it brings outstanding copying and printing to your business.
When you need a powerful performer for demanding print environments, the 95 ppm iR7095 is ready to meet a diverse range of challenges. Designed for corporate offices that need production level speeds without the need for outsourcing, it fits seamlessly into your business and brings added productivity to your staff.
Features
Powerful production at 95 ppm
High quality printing and copying
Integrates seamlessly into your existing environment
Professional document production at speed
Large touch-screen operation
Advanced security
Options
An optional security kit allows the hard drive to be encrypted, preventing outside intrusion, for further peace of mind.
Benefits
Consistent quality
New high resolution toner technology ensures superb line and text definition and consistent solids and half tones now, and years down the line.
An operator's dream
Operation of the iR7086 is simplicity itself, enabling the device to fit seamlessly into your existing workflow. A large 10.4 inch high-definition TFT colour control panel gives operators complete control of the production cycle.
Seamless integration
The iR7095 fits seamlessly into any IT environment. Sophisticated yet simple network management tools give you exceptional device control and management over the network.
Exceptional finishing
With the iR7095 you can produce professional looking documents in-house and save yourself the cost and expense of outsourcing. Saddle-stitched booklets can be produced of up to 80 pages and a staple cutter ensures an outstanding finish every time.
Security conscious
All devices allow direct web access at the device and feature heightened security protocols such as password protection of PDF's.

A secure watermark facility enables document printing with embedded security tagging. Text only appears when copied, preventing security leaks or unauthorised duplication of sensitive documents.
Send directly to email
Canon's URL Send feature enables documents to be scanned at and stored on the device (or an FTP site) with the URL of the document sent by email to a recipient for retrieval when they need it.
Future proof
Canon's innovative MEAP (Multi-functional Embedded Application Platform) architecture ensures that the light production range will adapt to your changing needs. Incorporated within your device, MEAP allows new and customisable applications - such as workflow or cost control software – to be quickly implemented at any stage, so that your workflow keeps pace with the latest cost-saving improvements available.