ABM recommendation
Features a low carbon footprint and effective power saving features that reduce energy bills and help achieve environmental targets.
MultiXpress CLX-8385ND

Samsung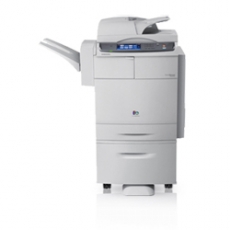 Status: New
Colour: Colour
Office use: Yes
Office colour
Speed: 31-50
Description
The SAMSUNG MultiXpress CLX-8385ND is the cost-effective way to bring versatile colour printing / copying to any office. The MultiXpress range of productivity enhancement features, combined with low cost ownership, means efficient printing without compromising on quality. These functions make the SAMSUNG MultiXpress CLX-8385ND one of the fastest A4 colour Digital Multi-Function Printers in the market today. The highly durable SAMSUNG MultiXpress CLX-8385ND is designed to be economical and productive in daily use.

Features
Fastest in Its Class
Printing 38 colour A4 pages a minute makes the MultiXpress CLX-8385ND one of the world's fastest A4 colour DMFP's. With a scanning performance of 33ipm, the MultiXpress CLX-8385ND offers a fast and efficient solution.
Heavy-Duty System Components
With an 800MHz CPU, 1GB of RAM and a generous 160GB hard drive, the MultiXpress CLX-8385ND makes print and scan jobs easy to process, store and handle. The added features and processing power mean it's suitable for the most demanding office environment.
SAMSUNG Easy Colour Manager
Easy Colour Manager allows users to easily adjust colour balance, brightness, contrast and saturation of any image that you view on your monitor. It can be especially useful if you have specific colour preferences, or if your company has its own brand requirements.
Auto Colour Detection
The introduction of the MultiXpress CLX-8385ND provides users with the inclusion of an additional 'Auto' option; users no longer have to rely on manually differentiating between 'mono' and 'colour' prints. As a result, users can skip through time consuming processes of separating different mode documents, while saving money by avoiding the cost of unnecessary colour prints.
Less Space
Office space is also a big issue. In general, A3 DMFP occupies more office space. Typically, the footprint of a mono A3 capable device is much larger than that of an A4 device. MultiXpress CLX-8385ND's economical design takes up to 75% less space in your office than general A3 DMFPs so you have more room around you.
Power Saver
This economical Power Saver button helps to reduce the 80% power consumption than the amount of Ready status. For the save more energy, the machine could adjust time period which enter in power save mode. MultiXpress CLX-8385ND uses 20% less energy than an average A3 DMFP making it much more economical and cost effective.
Options
Paper Handling
Adding optional paper trays can allow storage of up to 2720 sheets of paper at one time; this means a reduction in the frequency of refilling needed.
The 2-bin finisher and 4-bin mailbox supports a 1000 sheet output, making it much more efficient in a challenging office environment.
Network Ready and Ready to Scan Print and Fax*
You can print, scan, even fax* through your IT network within minutes and with no disruption to the working day. And with one highly capable device taking care of the needs of even large workgroups and departments, all you'll notice is productivity increasing.