ABM recommendation
A Laser multifunctional printer with advanced features and time saving functions.
CLX-6200nd Colour Laser Multifunction Printer

Samsung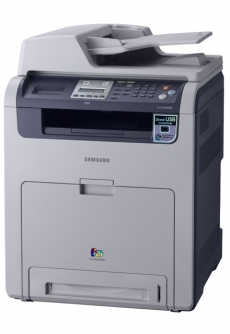 Status: New
Colour: Colour
Office use: Yes
Office colour
Speed: 0-20
Description
Imagine how you could extend your business potential and performance to the next level with SAMSUNG's new colour laser multifunction printer.
Features
Full of advanced features and time-saving functions
Speed (Mono): Up to 20ppm in A4 (21ppm in Letter)
Speed (Colour): Up to 20ppm in A4 (21ppm in Letter)
Resolution: Up to 2400 x 600dpi effective output
Benefits
Expand your efficiency with economical printing
In today's competitive environment the pressure on bottom line performance is driving cost saving efficiency. You have to spend money to make money, but with an efficient multi-function laser printer, you will actually spend less over time. SAMSUNG's CLX-6200ND has a low cost per page and an economical total cost of operation, resulting in long-term savings. Boost the efficiency of your business with this cost-effective laser MFP.
Duplex savings
Duplex printing has been made easier and convenient with both sides of the paper printed, which makes it unnecessary to manually reinsert the paper to print the other side of the paper. Another efficient plus feature is the duplex automatic document feeder that saves time as well as money. The feeder allows you to load several sheets at a time and print double-sided documents automatically. Even incoming faxes can be printed double-sided. All this eliminates the time wasted on loading each sheet and reduces the paper consumption by half. Increase efficiency and reduce expenses with the CLX-6200ND.
Optional second cassette tray
The CLX-6200ND is ideal for office environments with high printing demands. An optional second cassette tray can triple your input capacity, so you won't need to be constantly re-filling the printer.
Secure hard drive features
Take advantage of the 80GB hard drive* and increase your ability to manage and monitor print jobs on the network. Using the simple interface, print jobs can be monitored and controlled from anywhere on the network. You can also increase security and confidentiality for print jobs when they are stored on the MFP's hard drive and delay job printing until you are available to retrieve them. In addition, by accessing the Forms Overlay feature, forms can also be stored on the hard drive for future use, making it easier to create a variety of documents. Increase your potential with secure, time-saving features from SAMSUNG.Direct USB interface
The CLX-6200ND utilises the latest technology to give you the greatest convenience. Equipped with a USB port on the front, you can easily access and print files stored on your USB drive. You can also scan documents and save directly them directly onto the USB drive. File formats supported include PDF, BMP, TIFF and JPEG. Now you no longer need to send these types of files over the network as you can conveniently print them from your USB drive quickly and easily while allowing others to easily print from the network.
Wireless network
Broaden the capabilities of your multifunction laser printer with a wireless network. This allows you to connect without the need to restrict its workplace location due to hard wire cabling availability. Expand the network by connecting everyone and print from any location, simply and wirelessly.