ABM recommendation
High quality colour at high speeds for the busy office environment
CLP-770ND Colour Laser Printer

Samsung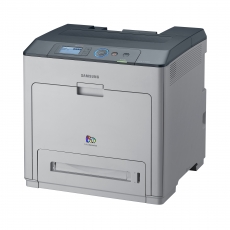 Status: New
Colour: Colour
Office use: Yes
Office colour
Speed: 31-50
Description
The Ulitmate office assistant, a powerful, expandable printer that is perfect in all fast-paced office environments.
Features
Professional looking documents at the rate of 33ppm
Lowest TCO's in its class, with features like built in duplexing
Paper capacity of up to 1600 sheets with options
Better quality then ever
Work without the wait
superby paper handling
Benefits
Better quality than ever
The CLP-770ND handles high-resolution 9600dpi printing effortlessly. The high quality of document creation on presentation handouts and collaterals helps your business create all the right impressions at the right time
Work without the wait
Even with colour printing, it takes just 11 seconds to process each job right through to the first page output so you don't waste any time in getting the results you want.
More functionality & convenience
With an optional 80GB hard disk drive, you can take advantage of enhanced features that reduce network congestion and optimize job storage. Add wireless networking capabilities for seamless connectivity with workstations
Duplex printing
While helping to maximise your paper usage, the option makes it easy to produce collaterals and booklets.
Lower cost of ownership
Compared to general A4 printers, the SAMSUNG CLP-770ND boasts one of the lowest operational costs for much more monthly output.
User Authentication
The SAMSUNG secure encryption solution delivers end to end protection. This is a unique authentication solution that increases the security of highly-sensitive projects by utilizing a smart card and universal driver.
Print at breaking speeds
At 32ppm for both mono and colour printouts respectively, the CLP-770ND gets much more accomplished than other rival model in the same class.
Superb paper handling
Right out of the box, you've got capacity for a supply of 600 pages. Add 1000 to the tally with 2 optional cassette trays. When the need for bulk printing comes, you won't have to keep refilling the trays.
Maximum monthly duty
Get 120000 prints per month easy with the CLP-770ND. That's more than enough to handle any volume of printing in any office.
Easy emulation
To ensure the utmost in compatibility, the CLP-770ND handles PS3, PCL5 and PCL6 emulation effortlessly. So the documents you send get printed in its entirety.
Lowest cost per print
Professional looking colour printouts are yours to enjoy for the lowest cost on the market so you don't have to think twice about printing in colour.