ABM recommendation
The added features and processing power mean it's suitable for the most demanding office environment.
CLP-670ND Colour Laser Printer

Samsung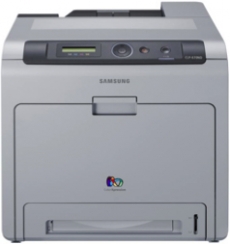 Status: New
Colour: Colour
Office use: Yes
Office colour
Speed: 21-30
Description
A printer that offers consistently outstanding colour prints and minimises operational costs.
Features
SAMSUNG's Real-Time Calibration Technology
High Resolution
Blue Compass Navigation
SAMSUNG Easy Colour Manager
Benefits
Enhanced Specification
With a 700MHz CPU and a generous 256MB standard memory, the SAMSUNG CLP-670ND range makes print jobs easy to process, store and handle.

SAMSUNG's Real-Time Calibration Technology
SAMSUNG's Real-Time Calibration Technology ensures documents are printed to a consistently high colour quality. However, when dealing with important documents that require special attention, users can choose to manually define the colour quality that will appear on their documents.
The enhanced CTD (Colour Toner Density) sensorensures colour output is always clear, sharp and professional.
High Resolution
The SAMSUNG CLP-620ND / 670N / 670ND range excels in its printing capability by featuring a resolution level of 9600 x 600dpi and high glossiness level, providing you with consistent professional documents.
Blue Compass Navigation
SAMSUNG's unique Blue Compass Navigation is easy to learn and even easier to use, so you can be more productive, more quickly. The navigation array gives you instant access to all the different print functions and controls. Simple, intuitive menus and buttons add to the savings in training and troubleshooting time. User-friendly GUI screens make operations quick and easy, and printer control panels have everything covered, including job status, toner level, paper jam, paper empty and cover open alerts.
SAMSUNG Easy Colour Manager
Easy Colour Manager allows users to easily adjust colour balance, brightness, contrast and saturation of any image that you view on your monitor. It can be especially useful if you have specific colour preferences, or if your company has its own brand requirements.
Smooth Network Integration
Conveniently network ready the SAMSUNG CLP-670ND is easy to integrate into your IT infrastructure right from the box. They also include support for the next generation Internet protocol (IPv6), giving you assured integration capability with IT networks of the future.
Duplex Printing
The SAMSUNG CLP-670ND range includes SAMSUNG's Duplex technology, allowing for efficient and economical printing as well as helping you to contibute to helping the environment.
Paper Handling
Storage of 250 sheets of paper at one time as well as 100 sheet Multipurpose Tray. This means less time is spent filling paper trays and with the variety of available paper formats – from A6 to Legal – you're always ready to print.
Power Save Mode
Reduces the cost of printing and lowers the temperature of the machine, creating a more durable environment for the printer components. Less wear and tear means extended quality and fewer replacement parts needed.
Easy to Maintain
The SAMSUNG CLP-670ND offers a choice of consumables to meet your cash flow needs. High yield toner cartridges, which are ideal for heavy users, last longer and give you lower costs per page. Optionally, low yield toner cartridges have the advantage of a lower initial outlay.